An Adventure in Every Bite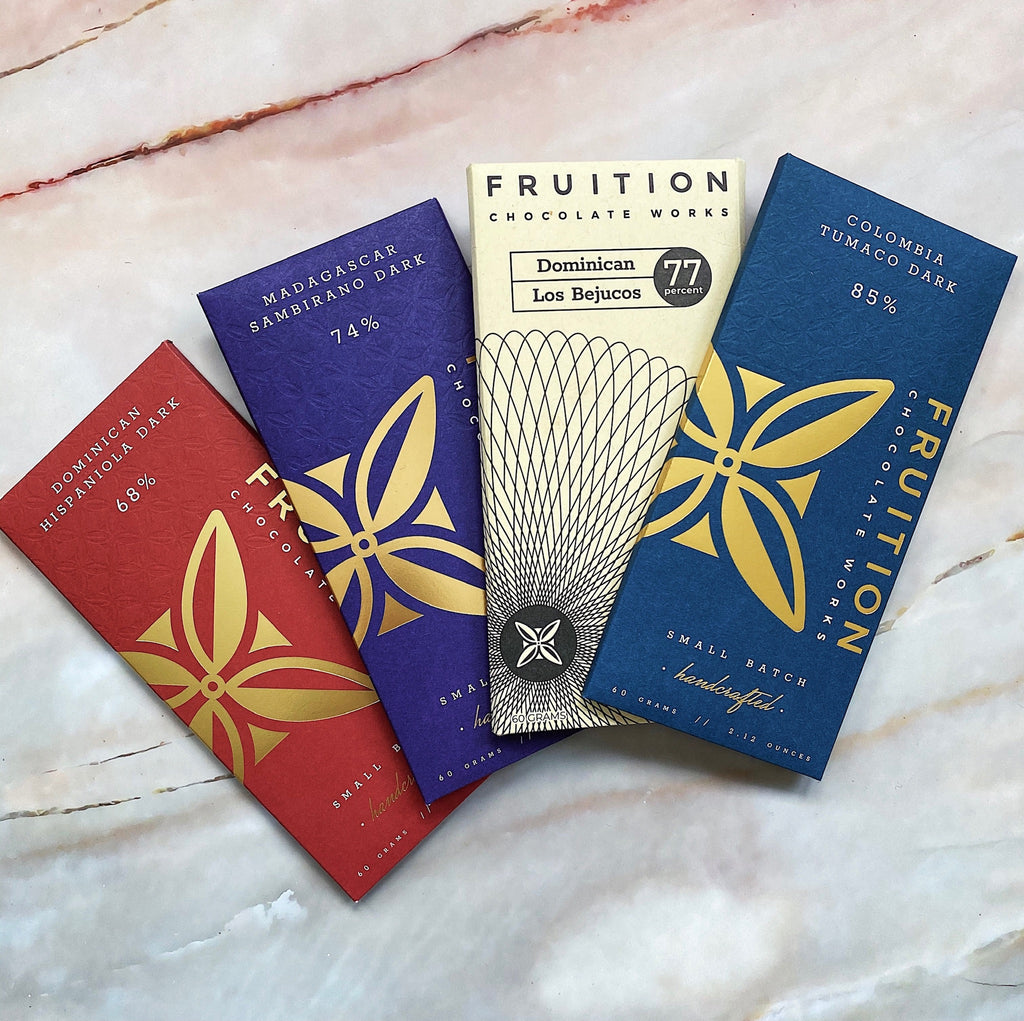 We don't know about you, but pandemic life has us craving excitement.

Don't get us wrong, we're acting responsibly—social distancing, mask wearing, staying with our pods (both human and cocoa), etcetera—but we keep dreaming of travel and exploration. And, from what we hear, it's not just us feeling this way! We all could use an adventure.

That's why we keep turning to the bars in our dark chocolate gift set. Each beautiful single-origin bar tells the story of where it's from through its distinctive, charming flavors. This is called "terroir," and it is one of the most exciting things about working in chocolate. Terroir is a form of sensory travel that you can do anytime, anywhere.

Another great thing about this lineup? There's something for everyone. This is a favorite for gifting, since the bars range in intensity—from 68% to 85%—with unique flavors from each, plus that luscious texture that you've hopefully come to expect from Fruition bars.


Dominican Hispaniola Dark 68%

We've been using these flavorful beans since 2014, sourced from a lush area of the Duarte Province in the Dominican Republic. Oko Caribe owners Adriano de Jesus Rodriguez and Gualberto Acebey Torrejon intercrop cacao trees with avocado, zapote, and orange trees for maximum biodiversity, but also creating quite a beautiful landscape.

Tasting notes: Balanced and bright. Reminiscent of grandma's homemade chocolate pudding  

Pair with: A harmonious Japanese whisky like Suntory Toki  


Madagascar Sambirano Dark 74%

The bright flavor of these beans is thanks to the volcanic soil on Bertil Akesson's private Sambirano Valley cacao farm, called Bejofo Estate, and is a favorite among craft chocolate makers.

Tasting notes: Sunshine in a chocolate bar. Vibrant notes of raspberry and blood orange. Classic Madagascar, and we love it!

Pair with: A bad mood, for instant day-brightening


Dominican Los Bejucos 77% First Release

This unique cacao comes to us from the newly established Denomination of Origin, Los Bejucos in the Dominican Republic. This region is characterized by three underground rivers and excellent soil drainage. 

Tasting notes: Pleasantly complex. Earthy and bright, but chocolate centric

Pair with: Young Manchego  


Colombia Tumaco Dark 85%

We've been sourcing beans from this area since 2018, and are proud to say that farmers working through our partner, Uncommon Cacao, earn 70 percent more income than when they were selling their cacao through the commodity market.

Tasting notes: Rich and round, with fudgy brownie vibes.

Pair with: Your morning cup of coffee and a handful of almonds, for an easy yet decadent breakfast
Each bar is available individually, but a 10% discount is built into the set if you buy them as a bundle.
And, a save the date: 
As you may have seen on our social media, Seth Godin included Fruition in his "Best Chocolate in the World" lineup for Dark Chocolate Month! We are so excited.
Seth will be doing live streamed tastings with some of his favorite chocolate makers (more info here, if you scroll down). On Monday, March 29 from 10:00AM-10:20AM ET, he'll be chatting with Bryan about our Wild Forest Bolivia Bar.

If you'd like to taste along with every maker, first of all, we love your enthusiasm, and second of all, you can buy a bundle with each bar and chocolate writer Megan Giller's book here. If you'd prefer to do a deep dive type of tasting, you can buy a special Fruition tasting kit here, bundled with Megan's book and a tasting with her.