Origins of Peru Tasting Set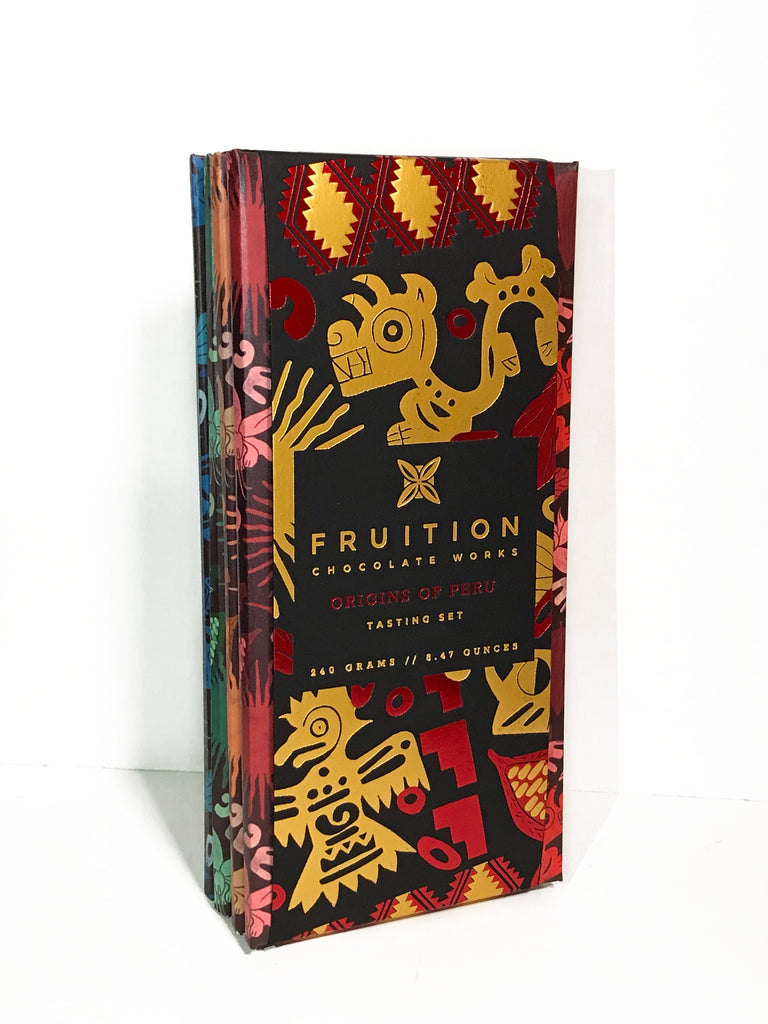 We're thrilled to announce the launch of our limited Origins of Peru Tasting Set. This collection of four bars in Inca-inspired packaging showcases the breadth and depth of Peru's cacao terroir, and will make a thoughtful and exciting gift for the chocolate or wine lover in your life (even if that chocolate/wine lover is you!)
Our co-founders Dahlia and Bryan have traveled extensively throughout Peru and have a deep appreciation for this special country. The cacao trade here dates back at least 5000 years, and some believe that the cacao found in Mexico and Central America can be traced back to Peru.
If you're a longtime Fruition community member, you likely already know our Marañón Canyon Dark Milk 68% bar, which Bon Appétit Magazine called "the absolute best that can be obtained by mere mortals." Now meet our Maranon Dark 73%, with notes of toasted walnut and red raspberry. Rediscovered in the valleys surrounding the Marañon River, this is pure Nacional cacao with unique DNA confirmed genetics that contribute to its allure. Pair with your favorite cheddar and a light red wine like Gamay.
These one-of-a-kind beans hail from Peru's northern desert, right off the coast. These beans are lighter in color (hence the word "blanco" in the name), and have lower tannins or astringency, a hallmark of the region's cacao. It has notes of meyer lemon and tahini, and would be lovely paired with a fresh goat cheese and a blended whisky like Monkey Shoulder. 
Hailing mainly from Cuzco, these beans are harvested at altitudes that range from 1300 to around 4000 feet above sea level. Cuzco is one of Bryan and Dahlia's favorite places in Peru, and they're honored to be working with these beans. Featuring notes of black cherry and cashew butter, this bar would be perfect with a gouda like Lamb Chopper and old vine Zinfandel.
Origins of Peru Dark Milk 68%
A blend of the other three origins, this dark milk bar is rich and silky, with notes of almond butter and papaya. Pair with hard alpine cheeses like Comté or Gruyère and your favorite sipping rum.  
Are you ready to go on a terroir adventure? Shop now. This is a limited run, and once these bars are gone, they're gone. Order by Wed. Dec. 15th for expected arrival by Christmas.
Post written by Christine Clark