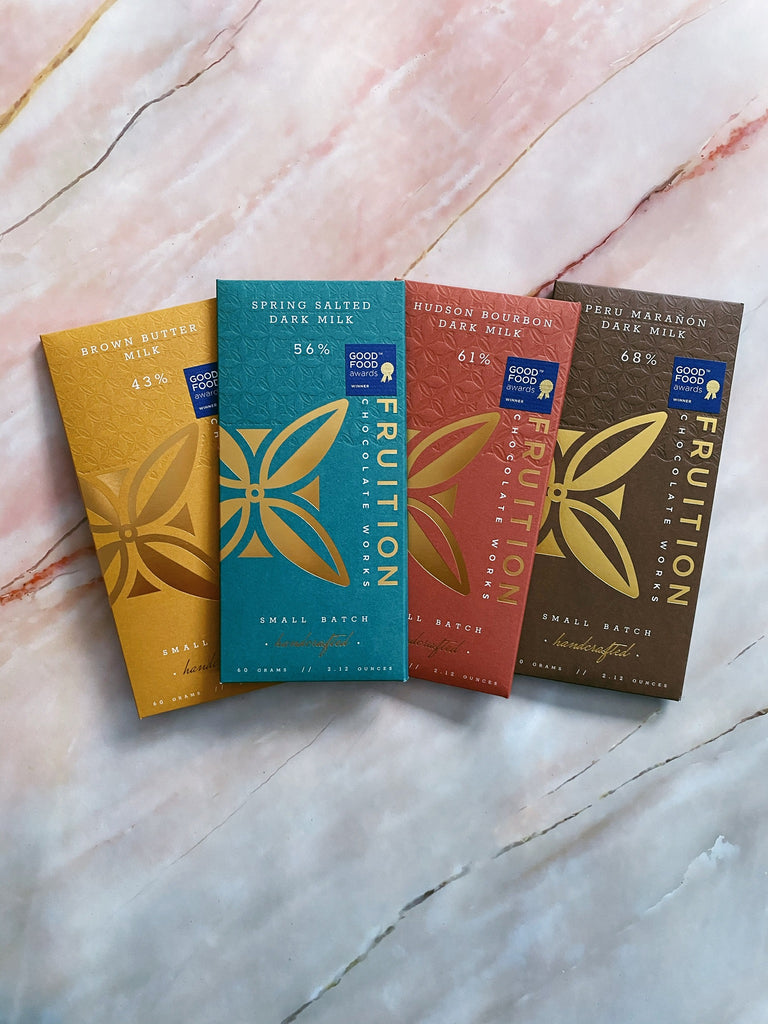 One chocolate myth we love to bust is the notion that milk chocolate is inferior to dark chocolate. We adore dark chocolate and it's a huge part of our business. Plus, it's kinda magical. All it takes is three ingredients—cocoa beans, cane sugar, and cocoa butter—to make something unforgettable. 
That said, we also have a soft spot for milk chocolate. How could we not? It's the chocolate of our childhoods: soothing, silky, and creamy. It's what we ate after baseball games, for after-school snacks, and on holidays. It always hit the spot. 
As grownups, we've sometimes tried to revisit the milk chocolate of our childhoods and have found it sadly lacking. It's too often chalky, insipid, and overly sweet. Just as unfortunate is the lack of transparency in its sourcing and production. 
So, when we need some comfort chocolate, we reach for one of our milk chocolate bars. They bring all the comfort of milk chocolate, and are made with distinctive, ethically sourced cocoa beans. And, there are several great options! There's Brown Butter Milk Chocolate, a true milk chocolate bar with a tasty twist, or our dark milk bars, made with higher percentages of cacao plus milk powder for the best of both worlds. 
Below is our milk chocolate lineup, made to satisfy both your inner child and your grownup palate. Or, go for our milk chocolate set to try them all!
100% guaranteed to put a smile on your face.
BROWN BUTTER MILK CHOCOLATE 43%
Locally churned Ronnybrook Farm Dairy browned butter lends deep caramel flavors to our interpretation of a classic milk chocolate. If you're looking for something elegant but uber satisfying, this is the bar for you. It also makes a great gift! 
Pair with: Your afternoon cup of coffee
Straddling the line between light and dark, this bar features Peruvian warm spring salt. It's all the best parts of a salted chocolate chip cookie! 
Pair with: A decadent triple cream like St. Stephen, made by our Hudson Valley neighbors Four Fat Fowl
This one's for the whiskey lovers! Roasted cocoa nibs are aged with Tuthilltown Spirits bourbon barrel staves and Hudson Baby Bourbon, then crafted into a creamy dark milk chocolate. Notes of grilled corn, apple fritter, and baking spice. 
Pair with: A glass of your favorite bourbon, of course!
Award Winning Dark Peruvian Chocolate. A very dark-milk chocolate made from pure Nacional cocoa beans from the remote Marañón Canyon of Peru. We love the notes of cashew and bergamot.
Pair with: A handful of mixed nuts
Written by: Christine Clark