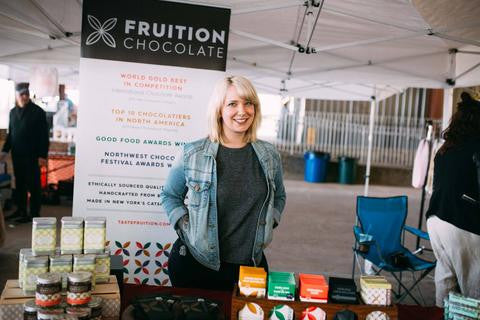 We are going to highlight a member of the Fruition crew with some Q&A's every now and then.
This month we are chatting with Emma, our awesome new Operations Manager.
NAME: Emma DeRosa
HOMETOWN: Kingston, NY
POSITION: Operations Manager
HAS WORKED AT FRUITION FOR: Almost two years!
FAVORITE NON-FRUITION CHOCOLATE BAR: Totally obsessed with Marou's coconut milk bar, sooo good!
Q: Hi Emma!
A: Hi there!
Q: So how are you enjoying the transition to becoming Fruition's new Operations Manager? How's the chocolate lifestyle? 
A: It's been interesting for sure! I have a very strong production background so I'm still getting use to time off my feet to just email and call people. The personal interactions are great, and it has been really fun to start learning about the bigger picture operations. 
Q: What was your previous role within Fruition?
A: I started out doing production. I made a LOT of chocolate bars (like a boss ;-)). Then, I started working in our small retail shop in the heart of Woodstock. I enjoyed that a bunch. I really love talking and teaching people about chocolate and where this tasty treat comes from! I then became our retail manager, while still working production a couple of days during the week. 
Q: Wow you really are a Jackie-of-all-trades! What were you up to before you joined Fruition?
A: I attended the Culinary Institute of America in Hyde Park, where I got my Associate's degree in Baking & Pastry Arts. I worked a million different jobs while in school that ranged from wedding cakes to accounting, and literally everything in between. 
Q: How does one fall into working at a chocolate factory exactly?
A: So, I joke around a lot about that because I feel like Bryan was kind of bullied into hiring me. I had an instructor who kept asking me if I needed a job, and telling me that I should reach out to Fruition. At the time I probably had four jobs, so I always said, "Thank you, but no." The Hudson Valley is such a small community too, and apparently Bryan and I had a lot of mutual friends. Those friends I guess kept hounding him about me. Once I was close to finishing the program, I finally reached out to Bryan, and I've been with Fruition ever since!
Q: Oh how funny! So when production is running, you all have headphones in; what are you listening to?
A: Ha. Currently I'm knee deep in the Slow Melt podcast series, but otherwise it's probably some folky indie junk. 
Q:  So where can we find you when you're not at the factory?
A: Lately, definitely on a mountain. I am slowly trying to hike all the 3500' mountains in the Catskills!
Q: That's amazing! If you weren't in the culinary field what other career would you be in? 
A: Journalist or working for NASA. Space writer…is that a thing?
Q: Last question, favorite Fruition bar? 
A: Oh that's a big question. My go-to is usually Camino Verde Crunch. I really dig the crunch in it.