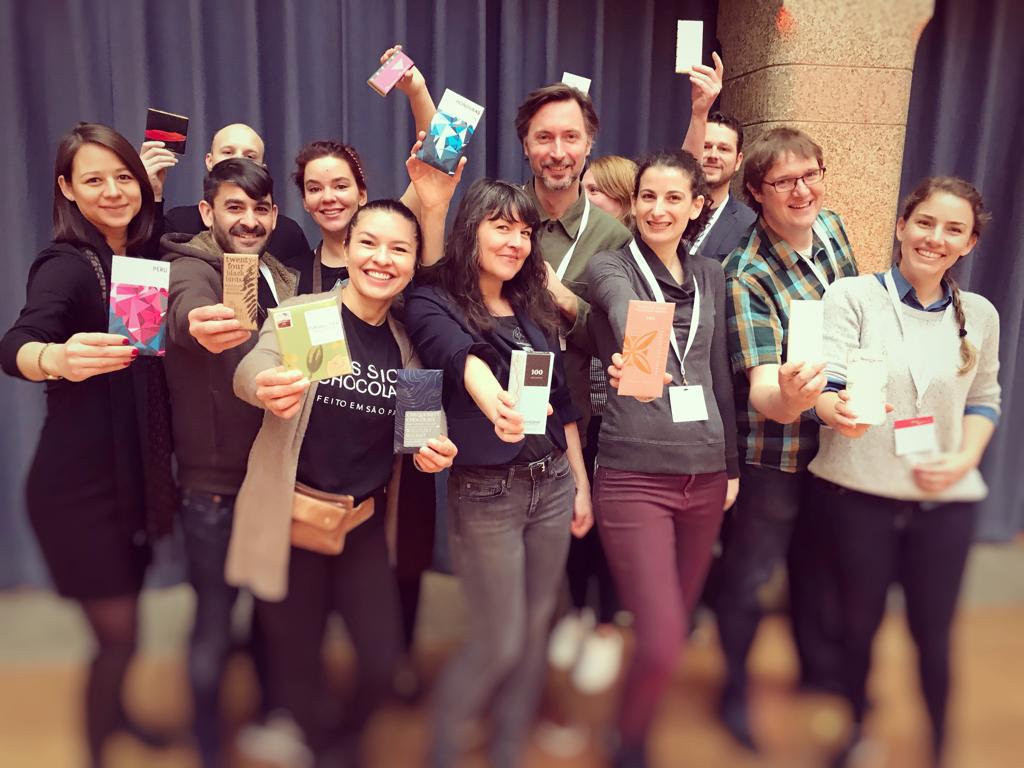 Just over a week ago, chocolate makers, chocolatiers, cocoa bean producers, retailers, distributors, journalists, equipment manufacturers, and other industry professionals gathered together in Amsterdam to convene on all things chocolate.
Above: Group Photo of Chocolate Industry Friends from Around the World; Dahlia & Bryan Graham of Fruition Chocolate Works on far left
Fruition attended Chocoa for the first time, and managed to make it to the Chocolate Makers Forum, Annual Dinner, Trade Fair, and Festival.  Oh yes, and let's not omit the House Boat (gathering hub and "Botel" to many), wielding a "Pirates of Cocoa Bean" flag designed by Zotter.  
Highlights include a very bold reminder in a panel led by Simran Sethi that the chocolate industry was born at the expense of slaves, and that unjust labor practices and extreme poverty are still widespread in the industry.  Greg D'Alesandre of Dandelion Chocolate shared that their 125MT of cacao purchased annually is "laughably small" to the big players and hardly able to make a dent in the big picture of raising the standard of living for farmers across the industry.  He went on to state that the commodity cacao price should be a floor and not a ceiling, and in a very emphatic tone proclaimed that there is nothing stopping the multinationals for paying more for their beans.  Antonie Fountain of the Voice Network shared that there are rumblings by the big players about how to begin shifting actions to match discourse, and actually make more progress in terms of their stated goals of ethical and transparent sourcing.  Simran Bindra of Kokoa Kamili in Tanzania, shared their model of paying more directly to the farmers so that they have a premium beyond that of Fair Trade which generally is too low of a premium and just gets spent on paying the certification fees.  
In another panel about "Choconomics" led by Spencer Hyman of Cocoa Runners, there was a lot of discussion around marketing chocolate bars, and how in my understanding of Spencer's opinion, craft chocolate bars aren't going to replace snacking commodity chocolate bars for the majority of people in the same way that people replaced cheaper coffee with a cup of specialty craft coffee.  There was a lot of emphasis on tastings, and collaborations with the beer, wine, and coffee industries.  
Clay Gordon of The Chocolate Life encouraged aspiring chocolate makers to think "outside of the chocolate box" and beyond only making chocolate in bar format, to offer something more to the broader market.  He also offered some very useful spreadsheets for chocolate makers to break down their return on investment with the addition of particular equipment.    
Panel discussions aside, the most fun part was spending time with our close-knit group of craft chocolate industry friends, and exploring a little taste of the city, walking along beautiful canals.  
Group Photo of Chocolate Industry Friends Enjoying Indonesian Reistafel